Blueprint to Create a Facilities Maintenance Budget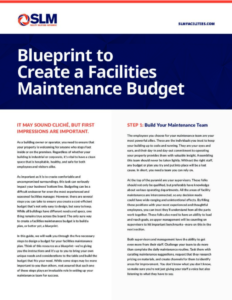 In this guide, we will walk you through the five necessary steps to design a budget for your facilities maintenance plan. Think of this resource as a blueprint—we're giving you the instructions and it's up to you to bring your own unique needs and considerations to the table and build the budget that fits your need. While some steps may be more important to you than others, rest assured that each one of these steps plays an invaluable role in setting up your maintenance team for success.
Step 1: Build Your Maintenance Team
Step 2: Track Current Operating Conditions and Benchmarks
Step 3: Determine Short-Term and Long-Term Expenditures
Step 4: Involve Your Vendors
Step 5: Prioritize Preventive Maintenance
Fill out the form to download your copy now!